Everything You Need To Know About Greenwashing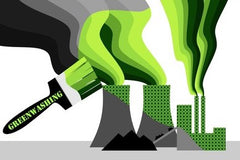 Take a stroll down any aisle whether it be beauty products, food, or clothing, one is bound to see brands using terms like "all-natural", "eco-friendly", claiming that the product "has no harmful chemicals" and "can be recycled". These are just basic standards and not sustainable initiatives. This form of advertising where brands misguide the consumers into believing unsustainable products to be sustainable is called greenwashing. 
What Is Greenwashing?
Greenwashing is an unethical marketing technique in which companies share false or misleading information about their sustainable initiatives for the sake of marketing. Even exaggerated claims  like "100% biodegradable or recyclable" are greenwashing. Consumers are given the false impression that a company and its products are sustainable when in fact they are not.
Why Is Greenwashing A Problem?
Greenwashing is bad because when companies pose to be more "green" than they actually are, they are persuading consumers to buy their products by misleading them and making them believe that they are being environmentally conscious when they are in reality contributing to its depletion. A truly sustainable company will back up their claims with facts, taking responsibility for all the different impacts of its business.
How Did The Term Greenwashing Come About?
The term was first used in the 1960s when the hotel industry began putting up signs asking guests to reuse towels as a step to reduce ecological damage. Ironically at that time, one such resort was also going through expansion, which meant they were damaging the ecosystem in a larger proportion than what they were protecting. An environmentalist called Jay Westerveld was one of the guests in this resort and later wrote a paper about this, also coining the term greenwashing.
Image Source: Conde Nast Traveller
Examples Of Greenwashing
Many brands that posted on Earth Day about their sustainable collections, responsible materials, recycling programs, and how much they care about sustainability are in reality exploiting garment workers and our planet.


In 2019 H&M launched its line of green clothing titled "conscious". They claimed that this clothing line was made from organic cotton and recycled polyester. However, on further investigation, this was found out to be just another marketing tactic to make them appear more environmentally conscious.


The value of Uniqlo owner Fast Retailing reached $103 billion in 2019,  while they still owe $5.5 million to garment workers they illegally laid off in 2015. The Uniqlo sustainability page also features a women empowerment article which seems so ironic when a lot of their laid off garment workers were, in fact, women. Recently Uniqlo made Doraemon (a fictional cat) its global sustainability mascot. It turns its sustainability mode on by turning green from its original blue colour- a cute but rather distracting move to switch consumers' attention from the actual impact Uniqlo has on the environment!
Image Source: Dot Daily Dose
How Do You Spot Greenwashing And Avoid It?
So now the question arises, "How do you spot greenwashing?", and buy environmentally friendly products. 
Have healthy skepticism- 
The first step would be to promote healthy skepticism. When you read claims like a product is "sustainable", "eco friendly", and "recycled content", you do not want to put your blind faith in them. Instead, look for certified labels for further verification, in case of smaller brands, with information about how their product is sustainable. This requires you to put in some extra effort, but as a responsible consumer, it can make a positive impact on the environment. 
Image Source: Copy That
Fabric Composition-  
While buying any product a glance at the fabric composition, sometimes brands claim to sell "cotton top" when it is actually 90% cotton and 10% polyester or another material which is not easily recyclable. Look out for what percentage of a brand's collection is sustainable? With brands like H&M as discussed earlier, only a small percentage of their overall inventory is sustainable, and yet they used that to show that they are overall an environment-friendly brand. 
Transparency-
The transparency of a brand is telling too. Brand transparency refers to how honest a brand is regarding its values, ideals, products, and services, For example- giving the consumers a detailed breakdown of where the money that they are paying for the products is going. Therefore with brands that do not get into details about their materials, factories, and practices, their credibility becomes questionable. 
Check the credibility of the brand-
Sometimes doing a little research if the brand has been untrustworthy in the past or has a history of trying to deceive consumers can be helpful. Google the brand name with the term greenwashing and see what comes up. In case of smaller brands with lesser information present on the internet try and check for evidence of eco practices. So if a brand claims to try and reduce its impact on the environment, it should be doing more than just providing clothes with organic cotton, like more environmentally friendly packaging, lower their energy consumption, and even use lower impact dyes.
Where brands have the responsibility of being honest with the buyers, we as consumers also have the responsibility of being aware and conscious about our purchases. The next time you go to make a purchase, spend a little more time and avoid getting green washed!