KNOW YOUR SEAMS: This one crucial detail can help you shop for high-quality clothes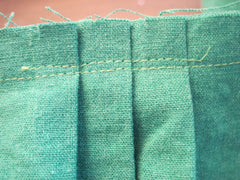 Are you tired of your clothes falling apart like your end-of-year Goa plans? We can't help you with your travel plans but we can definitely help you spot high-quality clothes that will actually last! 
No matter how expensive or cheap the clothes you're buying, it's important to shop for high-quality clothes for three reasons:
Buying clothes that quickly fall apart is like flushing money down the toilet. And who wants to do that? The longer your clothes last, the lower your cost-per-wear and the more money you save. 

The planet needs you to buy clothes that actually last. Every second, the equivalent of a truckload of clothing ends up in the landfill or gets burnt, creating immense waste. It's critical to cut down on fashion waste!

This one's personal. We don't want you to settle for less than you deserve! 
Luckily, shopping for high-quality and durable clothes isn't hard if you have one critical piece of information - what the seams of the garment look like. Now most of us no longer stitch our own clothes and there's no adulting 101 course on high-quality shopping, so identifying high quality clothes from the seams can feel like a mystical secret. We're here to demystify it for you. 
How to Spot High Quality Clothes Through Inner Seams
The construction of a garment can tell you everything you need to know about the durability and quality of your clothing. The next time you're out shopping, turn the clothing item inside out and take a look at the garment seams - that's the place where two or more pieces of fabric are stitched together. 
Overall, there are three main things to look for in a well-constructed garment: 
The seams should be neatly stitched and in a straight line:

This is a marker of attention-to-detail, showing the care that was put into making your garment. 

Tug at the seams slightly:

If the garment feels like it'll fall apart, the stitching is not strong. But if the stitching seams strong (pun intended), you're good to go! 

Count the stitch-per-inch:

The number of stitches per inch tells you how sturdy the garment is. The smaller and closer together the stitches are, the stronger the garment. Any garment should have at least 10-12 stitches per inch for strength. 
You don't have to carry a measuring tape with you when you're shopping. For most people, the first knuckle of the thumb to the tip of the thumb measures approximately one inch. You can use that as an approximate measure - though you should know the size of your digits beforehand! 
What do poorly-constructed low-quality garments look like?
When this writer did a closet audit for the sake of this blog post, she was sad to realize just how many of her previous purchases were poorly-constructed, low-quality garments. Avoid garments that look like this at all costs:
The seams are falling apart.

The stitches are uneven and irregular instead of being close together.

There are loose hanging threads that can come apart. 
Sadly, this top is bound to become a rag in just a few more washes. 
The Types of Seams to Look For in High Quality Clothes
We won't get into all the different types of seams in garment construction because there are far too many! Instead, let's talk about the most common seams you'll find in durable high-quality clothes that are well-finished. 
1. Overlock seams: Overlock seams are the most commonly found seams in mass-produced, factory-stitched garments. This interlocking stitch pattern looks like this: 
This stitch works well on lightweight fabrics with stretch, but not with delicate fabrics. However, as long as it's straight, neat, and strong, you can be confident you're making a good purchase.

At Tamarind Chutney, we only use overlock seams for garments like blouses which have margins (extra fabric) that allow you to easily loosen or tighten the garment based on your needs. Our preferred type of seam is the French seam.
2. French seams: A French seam is stitched twice. The seam is neatly folded over itself and doubled, making the stitching invisible on the outside. Because of this, it's much stronger and doesn't fray. It's also more comfortable to wear, especially for people with sensitive skin. Plus, it looks elegant. You'll usually find these seams in high-end clothing. At Tamarind Chutney, this is the preferred type of seam for its strength, comfort and elegance. 
3. Flat-felled seams: Flat-felled seams are loved for their durability. The seam is stitched, folded over, flattened, and then folded again. It's a thick seam that produces two lines of visible stitching. You'll usually see it in garments like jeans.  
Here's an easy way to remember all this information:
Now you're equipped with the most crucial detail you need to shop for high-quality clothes! For a more rounded understanding of how to buy clothes that last, especially when shopping online, check out our blog on shopping for high quality clothes online. 
In most cases, looking at the construction of a garment is only possible when you're shopping at a physical location. But because this is such an important part of making a high-quality purchase that delights, we're bringing this experience online for you at Tamarind Chutney. We're photographing and adding the inner seams of every garment on its online product page, so that you can be assured that you're making a high-quality purchase and truly getting your money's worth. 
Shop Tamarind Chutney clothing
here
.