STAY COOL THIS SUMMER WITH DOUBLE-CLOTH FABRICS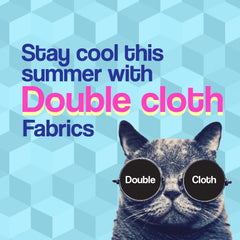 As your wardrobe goes through a transition to accommodate your summer essentials, we're here to help you with your fabric choices that will keep you cool, comfortable, and stylish not just this summer but many summers to come.
At Tamarind Chutney, the fabric of the season is Double Cloth Fabric. Let us walk you through what makes this fabric the perfect choice for a sustainable and stylish summer and why it should be a staple of your wardrobe as well.
WHAT IS DOUBLE CLOTH FABRIC?
'Double cloth fabric', the name speaks for itself- these fabrics have two layers of fabric threaded or fused together to make one double-sided fabric. Both layers of fabric are more loosely woven than standard one-layer woven fabric. The layers can be comprised of either the same or different fibers which allows an array of creative possibilities.
DOUBLE CLOTH, DOUBLE BENEFIT
Along with offering versatility in terms of design and styling, the double cloth fabric allows:
The inside layer to act as a lining while keeping the light fabric non transparent.
Air permeability which increases the breathability without compromising with fabric thickness. The fabric is highly absorbent which makes it perfect for hot and humid conditions.
Higher thermal conductivity letting heat to pass more easily from human body to help cool down. Even on the hottest summer days, this feature allows heat and moisture to escape, keeping you comfortable and dry.
Durability owing to the interweaving of the two layers. The dual-layer structure of double cloth fabric enhances its durability, ensuring that your investment stands the test of time.
BONUS BENEFIT (last one on the list, we promise!)
You can style them during the transition seasons too! While double cloth fabric is particularly beneficial during summers, its breathability and comfort make it a great choice for transition seasons as well. It can be a great layering piece and a versatile addition to your wardrobe.
Check out our Daisy Collared Shirt, which is made of double-cloth cotton fabric (available in Coral and off-white)
We believe in the power of conscious choices and the positive impact they can have on our planet. As a sustainable brand committed to ethical practices, we prioritize the use of eco-friendly materials and manufacturing processes. Our mission is to offer you fashionable alternatives that not only make you feel good but also contribute to a greener future.