TRADITIONAL INDIAN TAILORING: THE KEY TO ZERO-WASTE PRACTICES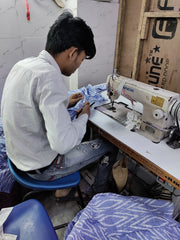 In recent years, the fashion industry has come under scrutiny for its contribution to environmental degradation. Fast fashion's overproduction, excessive waste, and harmful manufacturing processes have left a detrimental impact on our planet. Zero-waste fashion, on the other hand, aims to eliminate waste by utilizing every bit of fabric and minimizing the carbon footprint throughout the production process.

At TC, we are inspired by traditional Indian tailoring methods, which inherently prioritize zero-waste practices. In an era where sustainability has become a crucial consideration, traditional Indian tailoring leads the way. Let us delve into the ingenious world of traditional Indian tailoring and look at how it seamlessly blends heritage, creativity, and sustainability.
PATTERNS = BLUEPRINTS
Just as blueprints lay the foundation for building construction, patterns serve as the blueprint for garment creation. They are templates made on paper that guide the cutting of fabric pieces, which are later assembled and stitched together to form a garment. This ensured that each garment was created correctly. Unfortunately, modern patternmaking often results in significant fabric waste, with approximately 15% of fabric lost as off-cuts during the cutting process. All of this results in substantial environmental waste.
INDIAN 

MATCHMAKING

 PATTERNMAKING
Forget Indian matchmaking; it's Indian patternmaking we should be talking about. Back in the day, before machine-made cloth was a thing, tailors used thrifty methods of cutting fabric that created little to no waste. Garment design was dependent on the size of handwoven fabric from looms and local craft traditions. The emphasis was on resourcefulness, making the most of available materials, and minimizing waste.
WHAT'S THE TRICK?
These days garments are form-fitted and cut in curved shapes that flatter the body type. Whereas Traditional Indian tailoring methods utilized linear cutting techniques that maximized fabric utilization. This approach involved using shapes cut in straight lines, leaving no wasted pieces behind. To get a better understanding of traditional linear cutting
 
LET'S DO SOME MATH

Imagine having a sheet of paper, and your task is to cut at least one curved shape and as many others as you can, but the catch is that you can't have any wasted paper pieces. If you try this little brain teaser, it'll quickly become apparent that achieving this task is nearly impossible. This is what the modern-day pattern-cutting looks like.
 
SAVIOUR OF THE DAY
Now imagine having the same sheet of paper, but this time your task is to cut out any number of shapes with straight lines, such as squares, rectangles, or triangles. You'll realize that it offers you numerous ways to create shapes without producing any waste. This is the clever trick used in traditional linear pattern-cutting.
EMBRACING ZERO WASTE AT TAMARIND CHUTNEY
This sustainable approach results in some stunning Indian garments like the straight Kalidar kurta, churidars, and Patiala salwars. At TC, we incorporate this zero-waste technique in our designs, particularly in creating our "Noor" Patiala. 
At Tamarind Chutney, we are always working towards demonstrating that traditional craftsmanship and sustainability can merge to create a brighter, greener future for fashion. As sustainability becomes increasingly important in the fashion industry, traditional Indian tailoring stands out as an excellent example of zero-waste practices as it not only reduces fabric waste but also adds a unique charm to the garments. Support us in our journey to honor the heritage and embrace innovation.