What Are Natural Dyes? (And Are They Really Eco-Friendly?)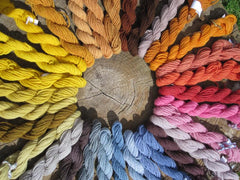 It's impossible to be on the internet today and not have heard of "natural dyes", especially if you're interested in sustainable fashion or Indian crafts. Long before synthetic chemical dyes existed (they're what make it possible to have brightly-coloured clothes in shades of shocking pink or electric lime), people used natural dyes to add colour to their clothes. 
Natural dyes are an interesting topic because of their links with nature, craft, and their super-cool recipes. After all, you can use what's in your kitchen to colour your own clothes! 
Sustainable fashion enthusiasts also love natural dyes because they're "natural" (ie. biodegradable) and hence considered sustainable. But are natural dyes really eco-friendly? The entire internet will try to convince you that they are, but the real answer? It's complicated. 
So let's get right into it and understand the fascinating world of natural dyes. 
What Are Natural Dyes?
As the name suggests, natural dyes are colourants derived from plants, animals (usually invertebrates), or minerals without the use of synthetic chemicals. Most natural dyes come from plant-based sources. 
Natural dyes can be used with or without mordants. Mordants are substances that act like a fixing agent to help the natural dye bind properly to the fabric. These are also naturally produced through minerals. Each natural dye colour requires a different mordant depending on how it was created. 
Examples of Natural Dyes
Some of the most commonly used natural dyes in India are indigo blue and madder red. Indigo is obtained from the leaves of the indigo plant and through various natural dye "recipes", it can be used to create shades of blue and green (though blue is most common). Madder is a plant used to create shades of red, orange, and terracotta.
Other sources of natural dyes include walnuts for a deep taupe colour, chamomile for yellow, lac insects for reds and purples, onion skins for maroons and yellows, pomegranate…the list goes on! 
Both natural dyes and mordants are created by mixing various natural ingredients together and have very interesting recipes. ​​As an example, the black dye used in ajrakh block printing is created by mixing scrap iron with jaggery and tamarind, creating a unique kind of tamarind chutney (sorry not sorry). 
Advantages and Disadvantages of Natural Dyes
Apart from having interesting recipes, natural dyes have many advantages that make them so popular among people who care about sustainability and crafts:
Natural dyes are renewable and biodegradable

since they come from natural renewable sources.

Natural dyes are free of toxic chemicals.

This is one of the most important benefits of natural dyes. Chemical dyes, on the other hand, have various toxic chemicals that create a host of health problems. Chemical dyes containing azo compounds are also carcinogenic and for that reason are banned in most countries, including India. Still, chemical dyes available on the market today continue to contain harmful chemicals. 

Many natural dyes have antimicrobial properties.

Some dyes also provide greater protection against UV rays. 

Natural dyes are gentle on sensitive skin,

making them ideal for babies and people with allergies.

The effluent discharged (ie. the wastewater used for dyeing) with natural dyes is not harmful and can even be used in agriculture.

This is extremely important because in unregulated non-industrial dyeing setups, effluent may not be treated according to required standards and can be discharged straightaway into the water. This causes water pollution, harms the soil, aquatic creatures, and also human health. 
Unfortunately, natural dyes are unable to compete with chemical dyes at a commercial level because they do have some disadvantages: 
It takes a lot of raw material

to create a small amount of natural dye.

Natural dyes are more expensive than chemical dyes

because they are labour-intensive to produce and also require a great quantity of raw materials. 

Natural dyes create a limited colour palette as compared to chemical dyes,

where it's possible to create literally any colour under the sun. Most naturally produced dyes are relatively less bright than chemical dyes, with some exceptions like indigo. 

Naturally dyed clothes are not as colourfast,

which means they bleed colour when washed and thus need to be hand-washed separately. They also fade faster than chemically dyed clothes. 

Different batches of naturally dyed fabric have variations in colour

because the process is not perfectly replicable. 
Natural dyes undoubtedly have many advantages and researchers are exploring their functional properties (such as medicinal benefits, UV protection etc). However, it's very difficult to make them commercially viable. For that reason, most large manufacturing businesses use chemical dyes. Today, most Indian craftspersons and weavers also use chemical dyes for block printing or dyeing fabric. 
Despite the challenges, advocates of natural dyes push for greater use of natural dyes because they are thought to be more eco-friendly than chemical dyes. As a sustainable fashion brand, we found it important to ask - in spite of the commercial challenges, is it important to increase the use of natural dyes from a sustainability perspective? 
Are Natural Dyes Actually Eco-Friendly? 
The answer is - yes, but in some cases, not entirely. Natural dyes are definitely renewable and biodegradable, which is good for the environment. Their effluents are also not toxic like those of synthetic chemical dyes. However, how sustainable natural dyes truly are depends on the situation: 
It takes a large quantity of raw materials to create a small quantity of natural dyes. As long as the raw materials are abundantly available without harming the ecology of the region (like weeds), this doesn't disrupt the ecological balance.

However, if the raw materials are not locally sourced or abundantly available, they threaten to disrupt the ecosystem.

This also means that a large amount of waste is generated in the production of natural dyes.

To be a sustainable process, this waste needs to be managed properly. 

It takes chemistry to dye clothes with natural dyes! Some fabrics, like cotton, can't be dyed as well with natural dyes as others, like wool because of the relative electron affinities of each material. That means while wool can be quickly and easily dyed with natural dyes, cotton will take

more natural dyes and resources (including water and raw materials) to dye the same amount of fabric, creating a lot more waste.



In comparison, emerging techniques of dyeing with chemical dyes, such as waterless dyeing, are far less wasteful. 
In most cases, natural dyes are sustainable and a better alternative to chemical dyes. However, from a practical perspective, it's important for the fashion industry to also develop safe and more sustainable chemical dyeing processes.
Making the fabric printing and dyeing process more sustainable is extremely challenging - but we've been working on it! At Tamarind Chutney, all ajrakh printed products are naturally dyed while our other craftspersons use azo-free chemical dyes. We're working on tying up with more artisans who are willing and able to use natural dyes. We're also exploring better synthetic dyes and cutting-edge tech with herbal dyes! 
To know more about our adventures with sustainable dyes, sign up for our newsletter or follow us on Instagram and Facebook.