Ajrakh
Amir Khatri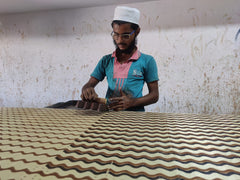 Makers of our dupattas and masks.
Where is he from:: Ajrakhpur, Gujarat
What crafts does he specialize in: Ajrakh
The latest addition to our expanding community of ajrakh artisans - meet Amir Khatri. Just 19 years old, Amir is a college student who helps his father and uncle in the family's business. Amir's uncle runs the printing unit, and he (along with his father) markets the products. While they specialize in running fabric, and sarees / stoles, they've been keeping up with market demands too! Their latest addition includes masks, if you ordered an Ajrakh mask from us recently, chances are it was made by them! Amir will join the family business full time after finishing college, check out his page at @khatriamir38 for more of their beautiful creations!